OK it's yummy so it's being put on my blog.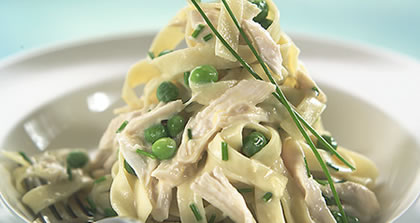 Ingreadents
250gram chicken
2 onions
1 jar cream
Pkt chicken supreme soup mix ( only use ½ pkt)
100grams bacon bits
½ capsicum red
4-8 shallots
1 pkt green fettuccine
2 cloves garlic
1 tblspoon oil
Instructions
Fry chicken in frypan with oil and garlic cloves when ½ cooked add onion.
When all cooked add ½ jar cream and ½ pkt chic supreme soup mix
Bring to boil
Cook fettuccine pasta whilst bringing mixture to boil
Last add capsicum and shallots so they are just cooked, then serve.
Note: If mixture is too thick add ½ cup milk